Roofing Contractor and Leak Repair Consultants – Proven Contracting of Long Valley NJ
Whether you roof has been hit by hail damage, suffered wind damage from the recent hurricanes or is just worn out from good ol' mother nature – let us come in and give you an honest estimate and assessment of the situation. Proven contracting, founded by Ryan Watson and Dave Curcio – two local, passionate NJ contractors and friends of many years. They embarked on their roofing journey and have now become a local household name throughout Northern NJ. David resides in Long Valley so feel free to give him a call for all of your exterior remodeling needs.
Why should you hire us:
Top notch financing available
Voted one of the elite contractors in Long valley NJ
Trusted and honest – often told we are very reasonable priced
Lifetime guarantee on every Roof we Replace
Extensive experience in roof repair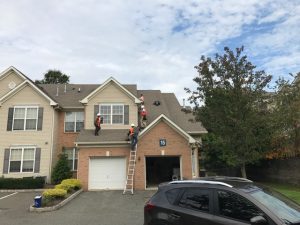 We believe in building long term relationships with our community and would like to be your go-to contractor for all your work in Long Valley NJ. As a business owner in  today's world, we are tech savvy and use it to serve our customers best – but at same time, we are still old fashioned and love to create personal and memorable relationships that last as long as the roofs we install and repair.
Roofing is our primary specialty; it is the core of our business and it is what we do best. Whether your roof is steep or has a low slope – our professional crew is well trained and equipped with the highest quality tools and products to get the job done right. We work with all types of roofs and roofing materials with most of our work done with asphalt shingles.
Our location in Long Valley:
Proven Contracting of Long Valley 
1 Basswood Ct, Long Valley, NJ 07853
(908) 291-3330