How To Repair Roofs – Why Proven Contracting Is The Best
How Roofing Experts at Proven Contracting Repair Roofs – The Difference
In our day and age, there are specialists for literally every kind of maintenance job out there.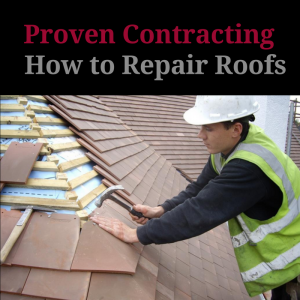 It is becoming more and more known that generalizing and being a jack-of-all-trades is not the way to go. We must evolve to specialize in certain aspects within our industry where we are able to perform a very high standard of work and do it consistently for every homeowner.
At Proven Contracting we have embarked on our journey as being roofing specialists and we live up to that statement every single day. First of all let me put a little bit of the safety aspect of proofing into place.  Roofing often requires for you to set up ladders and be at the top height of your house for extended amounts of time. Weather a leak or fix blown off shingle, we understand that it is a trend for homeowners to learn and do a lot of those maintenance works for their home by themselves, however when it comes to roofing we encourage to not perform these repairs by yourself because it could lead to a serious injury.
Where the Roofing Expert Differentiates from a General Contractor
A roofing estimator is the person who deals with potential customers and work out the details of the project before it begins. They are also the ones who the homeowner generally deals directly with them when they have issues, concerns or questions about the work as it is being done are completed. Often times company hire and train people who do not have a background in roofing to be the estimator because of their conversational skills.  This can bring some essential benefits for the company, a lot of times this estimator will not have the capability to price the job correctly because only an expert roofing contractor knows exactly what materials need to be used as well as a general idea of the price of those materials in the back of their head. At Proven Contracting, the two owners directly, Ryan or Dave price to every single job. We have extensive experience in the roofing industry and are able to provide homeowners a quote that takes into account prices of the best roofing materials that will be needed to complete the job without the homeowner having to spend an arm and a leg.
Expertise Needed for a Full Roof Replacement
Many times when a roof replacement is done, we see that it was not completely necessary. Replacing parts of the existing roof with the brand-new shingles would have done the job. But then there are times when an entire replacement needs to be removed and a whole new one is to be put in its place.  In these situations, we need an excellent roofing contractor to be in place at all times.  The work that he must perform almost falls in the carpentry industry.  It is a relatively complex procedure that cannot be done by general roofers. This is why you often see several roofers working on the same roof, it is not only to speed things up but to make sure there are general roofers doing the repetitive time intensive tasks while the more technical roofing contractors are directly at working on the more complex tasks.
It is important to make sure you are working with roofing specialist or at least a team that has technical roofing contractors onboard. It does not only help with your roofing problems but they often the have further knowledge about other things that are related and affected around the roof.  A common example for this will be your gutters; they go hand-in-hand because they are required to be functioning properly for your roofs health.
Click the following links to learn more about:
Roofing in Bridgewater
Roofing in Long Valley
Roofing in Randolph 
Thank you for reading and feel free to visit any of our locations in NJ for all your roofing needs:
Proven Contracting of Bridgewater
Proven Contracting of Long Valley
Proven Contracting of Randolph